Will 2022 see the return of Event Marketing?
23 May, 2022
5mins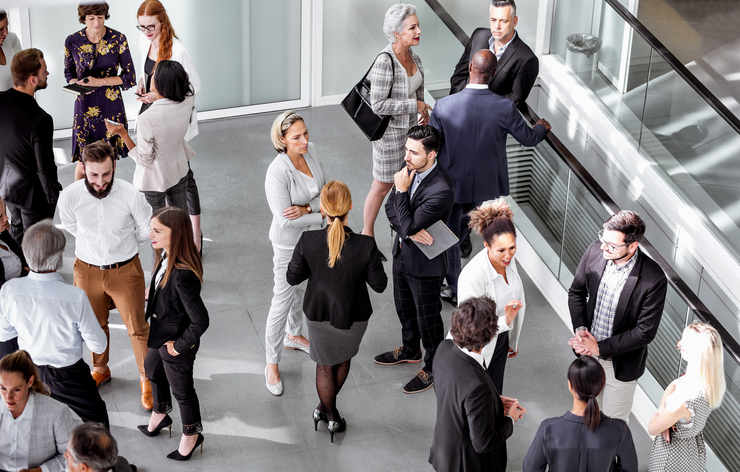 After such a long time away from the exhibition halls and conference centres, are people now ready to start returning to trade shows and conventions in person or are we all now so used to Zooming in for webinars and virtual summits from the comfort of our desks that we will never see the same large-scale physical events that existed pre-pandemic?
Benefits of virtual events
There is no doubt that the move to virtual events has seen many advantages. There are obvious cost savings for the organisers not needing to hire a venue or spend money on exhibition equipment such as stands and merchandise. Virtual events also don't need large amounts of staff to manage proceedings, and those who are required won't have a hefty expense claim to submit at the end.
Equally, companies that send delegates to virtual events save money on transport, hotels, and food bills and reduce their carbon footprint by not having employees travelling around the country or the globe.
Virtual events also enjoy a more significant reach in terms of audience. It is easier to attract participants from all corners of the earth as there are no travel restrictions, and events are generally low-cost or free to attend. Managers may also find the decision to allow employees to attend more attractive, as delegates won't be spending time away from the office.
On top of this, another benefit is that attendees' registration information and data about their engagement with interactive elements of the event can be electronically collected to analyse their behaviour and better identify target clients.
Why go back to physical events?
While it's clear that there may be cost savings from hosting virtual events, as the saying goes, 'money isn't everything'. In a recent survey, 26% of event attendees said that virtual events aren't fun, and 67% of event marketers said they find it challenging to keep the attendees engaged during the virtual event. There are some things you can't convey over a computer screen.
In-person events can provide an opportunity for relationship-building through fundamental social interactions. The chance to network in person, shake someone's hand, and see their face in real life can allow for more in-depth conversations and memorable experiences and help build brand recognition and a reputation you can't replicate online.
However, as physical events return, marketers see a change in attendees' expectations. Many companies have reported that, although they see record ticket sales for some in-person events as people clamber to get back to travelling and enjoy the outside world, it is no longer enough to replicate the old pre-Covid structure for events. It would seem that in 2022, people are looking for more than just some free pens and t-shirts. They want to be given an excellent reason to attend in person as anything 'normal' or 'average' could be achieved just as easily from a virtual gathering.
So, the strategy for marketers is shifting towards finding ways to go over and above to provide an experience that will entice people back to the physical world of trade shows and conventions.
Event Marketing experts at Event Force have suggested five ways that marketers can attract attendees back to live events, including; making it clear to delegates that there will be no virtual alternative, highlighting that the event will be Covid-safe and perhaps most importantly, aiming to be able to offer something exclusive that non-attendees will miss out on.
Some companies are already working on innovative ways to offer exclusive experiences for their brands, such as premium drinks business Diego North America which is launching its new Astral Tequila brand by offering lucky winners a chance to spend a luxury glamping weekend with their friends and a celebrity astrologist near California's Joshua Tree National Park to tie in with the 'Astral' name.
Getting it right
Some marketers have been opting for hybrid events, which can be helpful in certain situations, and were indeed beneficial when the number of people gathering in one place was still restricted towards the end of lockdown. Still, hybrid options should be used with caution as they can increase pressure on the organisers by creating two events for them to plan for at once and can discourage in-person attendance if delegates choose to attend online instead.
When it comes to getting people back to live events, many businesses now realise that the key to success is getting the right marketing professionals with the skillset to innovate and create fresh ideas. This has led to a sudden increase in roles in the events marketing arena for the right talent. Marketing recruitment specialists McGregor Boyall have reported that they have seen a recent uplift in event marketing opportunities from a wide range of companies over the past few months, with businesses seemingly bolstering their event management teams and budgets as we emerge from the restrictions of the pandemic.
The future
Virtual events have tremendous benefits and aren't going away anytime soon. Still, it's all about getting the balance right, and there is a definite appetite for live in-person conventions, exhibitions and other smaller-scale activities when the circumstances require it. Those with the vision and creativity will devise successful physical events in the future to come up with something new and innovative, which will make people feel a need to attend, and hopefully, that means there will be some exciting events ahead for all of us!
If you're looking for your next marketing role or need the right marketing talent to join your team, contact McGregor Boyall today and find out how our expert recruiters can help you.