The Circular Economy: How it can benefit the business world as well as the planet
26 Sep, 2022
5mins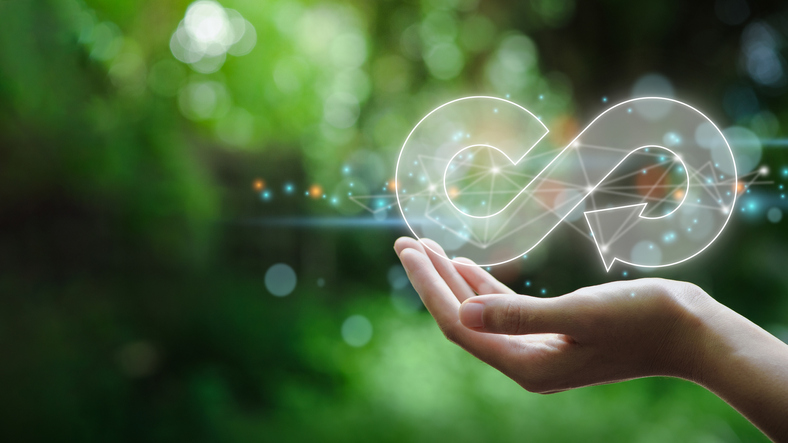 The environment is now firmly at the top of most government and business agendas around the globe as individuals and organisations alike are highly aware of the need to tackle climate change and create sustainable solutions for energy and materials objectively and urgently. One of the most recent developments in this area is the concept of a circular economy and the benefits it could bring.
What is a circular economy?
A circular economy is a production and consumption model involving sharing, leasing, reusing, repairing, refurbishing and recycling existing materials and products to keep them circulating for as long as possible. Unlike a linear economy, which follows a 'take-make-dispose' pattern, the main aims of the circular model are to reduce waste, manage pollution and protect the environment.
Examples of how this can work effectively in practice include designing electrical devices that are easier to repair or recycling plastic into pellets to make new products. This has enormous benefits for the planet but also has positive implications for the business world.
Economic benefits
According to the World Resources Institute, plastic pollution currently leads to around $13 billion in costs and economic losses per year. Plastic in the ocean directly affects industries such as fishing and tourism. Toxic emissions from burning plastic waste affect healthcare costs, and the fossil fuels needed for plastic production are expensive and negatively impact the environment. Organisations focusing on reducing waste and reusing materials may see significant cost savings and avoid fines and duties such as the plastic packaging tax.
In addition, investors are becoming increasingly conscious of making socially responsible investments. ESG is high on their list of priorities in the decision-making process, and companies who can display sound ESG credentials about how they are supporting the environment, such as through involvement in circular economy practices, are more likely to secure investment.
A circular model can also benefit the economy at a consumer level. With the ongoing cost-of-living crisis, initiatives involving reusing, renting and reselling can help individuals save much-needed funds, creating more disposable income in the long term. This money will then be injected into the economy through spending on leisure activities which would otherwise have suffered due to consumers tightening their belts.
A boost for the job market
Another business win for the circular economy model is employment. A recent government report predicts that a transition to a circular economy could create almost half a million new jobs in the UK alone by 2035, with global forecasts of around 18 million new green jobs and over 65 million new low-carbon jobs by 2030.
That's not to say that some linear jobs won't be lost along the way, and as such, companies should be aware of relocating and upskilling staff who may be needed for different tasks from the ones they were initially employed.
An industry that is likely to see significant growth in a circular economy is green tech. Innovation will be encouraged to find new and resourceful ways to implement the principles of creating circular economy products. This has already been supported and incentivised by 40 nations around the globe, who all committed to a proposal at COP26 to make green tech cheaper than environmentally unfriendly alternatives.
Other growth areas include compliance and governance, which could flourish as continual strategy planning and monitoring will be necessary to ensure that business practices are sustainable and capitalise on circular economy efficiencies.
Additionally, businesses transitioning to a circular economy could find unexpected benefits in recruiting and retaining talent. Over two-thirds of all workers are now reported to consider a company's CSR stance when deciding where to work, with 70% of millennials even willing to take a pay cut to work for a socially responsible company. So, employers who adopt a circular model could highlight their business as an attractive workplace.
In summary, it would seem that a circular economy could be a win-win situation for consumers, organisations and the planet and perhaps the next step in the evolution of sustainable business practices.
If you are a compliance, governance or green tech professional looking for your next career move or looking to employ top talent to build your environmentally friendly team, contact McGregor Boyall and find out how our expert recruiters can help.