How to stand out from the crowd when Interviewing
21 Sep, 2022
5mins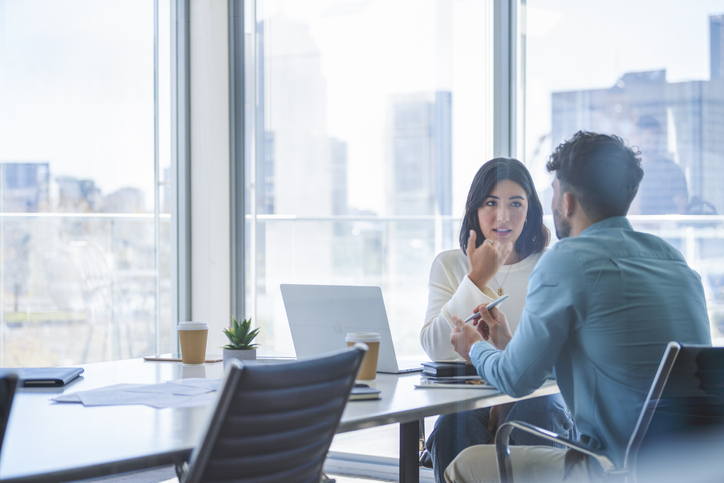 It's a great feeling when you make it through the application process and get the opportunity to progress to the interview stage. But it's unlikely that you are the only one who has been selected. So, how can you make the best use of the time with your potential new employer to show that you are the best candidate for the job?
Getting the basics right
It is imperative to master the fundamentals to make a good first impression on any potential employer, and it is the minimum you should be aiming for to create a confident and successful start to any interview. A candidate who falls short of these basic expectations will unlikely be taken forward or offered the job.
Do your research: In advance of any interview, ensure that you undertake some research on the company. Get an idea of the organisation's history, culture, business areas, and the people who work there. Knowing a bit about the business shows the interviewer that you have initiative and are interested in the role. Most company information can be found on their website, and some information about a company's leadership team may also be available on corporate social media platforms such as LinkedIn.
Review the job description: Check how your specific skills and experience match those required for the position and note any transferable skills that you possess which could assist in areas of the role where you have less experience or where they can add additional value. When preparing your thoughts on how you might add value to the company, you should consider how your interests, passions and talents align with the role, how your values fit with those of the company and how your aspirations and career goals relate to the position you are applying.
Look the part: Whether face-to-face or online, it is vital to present yourself professionally. Follow any dress code specified, or where no prior details are given, it is advisable to dress smartly as this will generally always be well received. While many offices are now more casual than pre-Covid, you are still far more likely to make a good impression if you are overdressed than under dressed. Even for video interviews, professional attire will positively impact your confidence and help you focus on the conversation.
Be prepared: For face-to-face interviews, always check that you know the offices' exact location and travel arrangements before you set off. Aim to arrive around ten minutes early so that you don't turn up flustered. Arriving in a rush will make you look disorganised and can dent your confidence and focus at the start of the interview. Also, ensure you have all the items you need, perhaps a copy of your CV or a pre-prepared presentation.
For online interviews, again, punctuality is essential - there is even less excuse to be late for a virtual meeting than for a face-to-face one. In anticipation of anything which could cause a delay or look unprofessional, always check your internet connection and test your sound and software in advance. Have the interviewer's contact details to hand to ensure you can make contact quickly should you lose connection. Ensure you find a quiet space for the duration of the meeting and, to maintain professionalism, be aware of what might be in the background of your video frame. If your environment is busy, your interviewer may find it more challenging to focus on what you are saying.
Managing nerves
It's natural to feel nervous before an interview, so being organised by getting the basics right will be a positive first step to calming yourself, as you should arrive on time and with everything you need.
If you are concerned about anxiety getting the better of you, try practising some stress relieving techniques in advance, such as deep breathing exercises, or you may want to try other ways to alleviate nerves.
And above all, try to focus on the fact that you have been invited to attend the interview in the first place, which means that the company already recognises that you have something to offer them, they value your skills and experience and are interested in what you have to say.
Self-awareness
Being self-aware is a big step toward a successful interview. Consider how the job you are interviewing for aligns with your career goals and passions, and be aware of how you conduct yourself in an interview situation.
Authenticity can play a big part in self-awareness. If you cannot be your authentic self at work, it can affect your happiness, job satisfaction, relationships with co-workers, confidence and overall career success. So, with this in mind, you should aim to be authentic from the start, which includes your interview. Showing an interviewer the real you from the outset will allow you to be your true self at work (once you hopefully secure the position).
Another critical aspect is an awareness of your physical behaviour and how that can affect the success of an interview. In a face-to-face situation, positive body language can help form a subconscious connection with the interviewer, such as maintaining eye contact and nodding when the interviewer provides information. Equally, negative body language, such as folded arms or fidgeting, can have a detrimental effect, suggesting to your potential employer that you are bored or distant. Body language can still play an important role if you are interviewing online. Be aware of where you're sitting in relation to the camera – being too close can feel unnatural, while being too far away could impact how well you're heard. Having your head and upper body in the shot is recommended.
Finally, showing enthusiasm and speaking in a positive tone can work wonders in an interview. Sounding like you are excited by the role on offer will demonstrate to the interviewer that you are keen to be a part of the company and suggests that you would make a good co-worker for existing employees.
Questions
When preparing for an interview, take some time to think about what you might get asked. For instance, it can be a good idea to write some notes about where you want your career to be in 1, 3 and 5 years and try to be specific about how you would like to achieve your goals to show you have ambition.
If you have any gaps in your CV, be prepared to discuss them. Always be as honest as possible and mention what you did with the time you were not in paid work and the skills you gained from it, whether it was personal development, volunteering, caregiving or even a hobby, to put a positive spin on the pause in your employment.
For some of the most awkward interview questions, you may want to do further research before the meeting to have some answers ready. These articles give some additional advice on responding to even the trickiest of interrogations! how-to-handle-awkward-interview-questions-part-1 & how-to-handle-awkward-interview-questions-part-2.
The National Careers Service also offer guidance about using the STAR technique to formulate meaningful answers that give examples of how you have handled work situations to achieve a positive outcome.
In any interview, you are also likely to be allowed to ask questions. This is a genuine chance to find out information and shows the interviewer if you are serious about the job and the company. Try to have some insightful questions prepared in advance, which perhaps show that you are interested in the business's future success or would like to know something meaningful such as finding out about their CSR policy. Curiosity about the business will help show your interest in the organisation and how your role would assist the company in achieving its goals. Try to avoid asking questions which focus on personal gain, e.g. 'how much holiday do I get?', especially at a first-round interview, as this could suggest to the interviewer that you are less enthused by their company and only want 'a job'.
At the end of the interview
Hopefully, you will feel the interview went well, but however the session played out, always remember to thank the interviewer for their time and ask about the next steps and when you are likely to hear from them. This reinforces that you are keen to move forward if they are unsure of your interest in the job.
You can also follow up with an email or phone call a few days after the interview. This can help cement the idea that you are genuinely keen. You can use the opportunity to thank your interviewer for their time again, ask if they have any further questions which may not have been covered in your interview and let them know that you are looking forward to hearing from them. This reminds them of your interest in the job and, perhaps more importantly, of you personally compared to other candidates they may have met.
For more interview advice and help finding your next career move, contact our expert recruitment team at McGregor Boyall today.