Warsaw challenging London as business centre of Europe?
08 Feb, 2022
5mins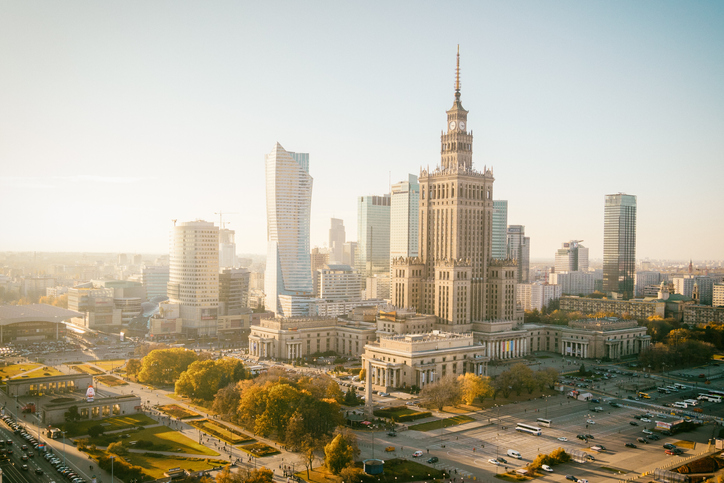 In a post-Brexit world, you may expect to hear that perhaps Paris or Frankfurt are jostling for the title of Financial Capital of Europe. However, maybe somewhat surprisingly, it turns out that Warsaw is posing one of the biggest challenges to London with an influx of Finance, FinTech and Tech companies setting up shop in the Polish capital.
According to a recent article by Investment Monitor, Warsaw continues to grow and attract investment despite the impact of Covid-19 and is cited as an 'economic powerhouse', not just nationally but also across Europe. In 2019, Warsaw's GDP was estimated at $105bn, making it one of the wealthiest locations within the EU, and a study group from Loughborough University has now officially classed Warsaw as an Alpha world city.
This economic growth is not going unnoticed by some big names in the business world either, with IBM announcing last week that the expansion of its Client Engineering team in Central and Eastern Europe (CEE) will include a new location in Warsaw and Pepco (owner of retail chain Poundland), deciding to list on the Warsaw stock market earlier this year instead of in London.
There is an investment in infrastructure too, with projects such as a significant network expansion of the Warsaw Metro, creating two brand new underground lines, making the city an increasingly attractive place to live and work.
Perhaps most importantly, all of this investment and growth is creating a considerable number of new jobs, and there is high demand for Finance and Tech professionals. Daniel Fisher and Jack Shephard-Thorn, who head up McGregor Boyall's Warsaw office, report that they have seen a massive increase in the successful placement of permanent and contract candidates into both established businesses and start-up companies who have chosen the Polish capital as their preferred location.
So, with a growing economy and the benefit of being inside the EU but outside of the single currency - much like London was before Brexit - it would appear that the newly thriving Warsaw could be the top choice for businesses and talent alike in 2022 and beyond.
If you're interested in working in Warsaw or are a business looking to fill vacancies in the city, contact our expert recruitment team at Mcgregor Boyall today and find out how we can help you.
Contact us
Dan Fisher, Director | dfisher@mcgregor-boyall.com
Jack Shephard-Thorn, Associate Consultant | jshephard-thorn@mcgregor-boyall.com